Marine Protection AND RESTORATION
Oceans Project - MARINE Protection AND RESTORATION
Shark protection and complete climate change adapted marine ecosystem restoration are the main goals for the Oceans Project. We are working with some of the most renowned marine scientist and shark experts to develop processes that can help local communities everywhere to restore their complete ecosystems and to make them climate change resilient.
Follow us on our  circumnavigation expedition and discover how we are protecting and restoring our Oceans.
Be part of it and enjoy the experience. You can watch us on our Oceans Project YouTube channel. If you want to make a real impact, please consider becoming a member of our Oceans Project team.
Everyone can join and support the Oceans Project. For instance just watching our YouTube episodes will generate ad revenue. This, together with donations and sponsorship money will keep the Oceans Project platform going. You can easily become an active Patreon member and make an impact!
Contact us if you have a marine protection or restoration project where you want us to collaborate. Oceans Project is here to help.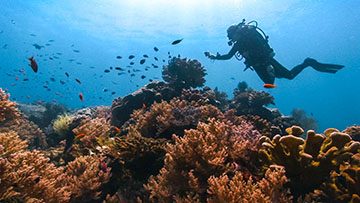 2023
Polynesia
Fiji, Tuvalu
2023/2024

Micronesia
Kiribati, Yap, Palau
Indonesia
Raja Ampat, Bali, Cocos (Keeling)
Australia
Ningaloo (not confirmed yet)
2024/2025
Indian Ocean
Maldives, Chagos Archipelago, Mauritius, La Reunion
South Africa
Durban, Mossel Bay, Aliwal Shoal, Cape Town 
Circumnavigation one complete, rinse, repeat..